Burundi
Progress Report: Batwa Development and Social Integration Project
Date 14th January 2010
On behalf of our contacts in Burundi, Links International would like to thank Change4Change for their kind investment of £6515 towards the Batwa Agricultural Project.
Project Summary
The aim of the project is to improve the living conditions of the Batwa people by improving the current agricultural system and reinforcing their potential and capacity to grow food for their local communities.
This objective is to be achieved by our contacts helping the Batwa to increase food production of beans, maize and community fields of cassava.
Progress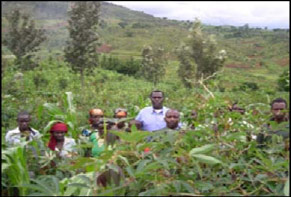 As reported in the half term report, during this year, 2 ha of cassava in Gihinga and 0.60 ha in Kibungere have been cultivated and seeds of beans, maize, pears and fertilizers distributed to 421 families in 7 different villages.
In Gihinga, they harvested their cassava before maturity because of bad weather which had destroyed almost all the leaves of the plants. But they have replanted another 1 ha of new shoots which are growing.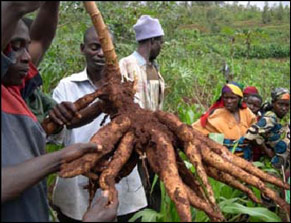 The Kibungere plantation is doing much better. During the last week of December they uprooted 2 plants to see when they can plan for the harvest. As shown in the attached pictures, the harvested cassava is big but the owner preferred to wait for another six months so that they can grow bigger. Rukoba village will then receive shoots to plant another 2 ha cassava.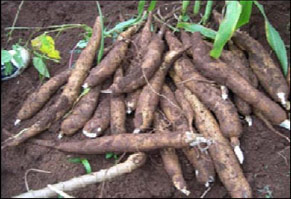 They have also distributed seeds of maize, beans, pears and sweet potatoes to 421 families living in 7 different villages. Some villages have community land of 1 or 2 ha where they cultivate together, others are cultivating in their own land. All these seeds have been distributed in October and November and the harvest is expected in January and February.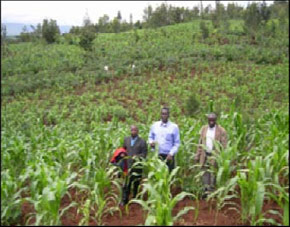 All these beneficiaries will put aside a part of their harvest to be used as seeds for the next season. Usually African Revival Ministries (ARM) takes care of these seeds and redistributes them during the following cultivation period.
With the good weather they have had during this period, the harvest will also be good and all these beneficiaries will see their nutrition conditions improved; especially children, who used to drop out of school because of hunger, will continue to attend school as other children.
Difficulties
Apart from bad weather in Gihinga which destroyed the cassava plantation, there were no other problems.
There has been no further news on working in the village of Nyarusange where local authorities had been approached for community land. Rather than wait longer for the authorities with no indication that the request was likely to succeed attention has switched to working with Rukoba village.
Use of Funds
The £6515 donated has been spent as follows:-
£2,587

Fertilisers

£25

Training on growing of cassava

£2,032

Bean seeds, 3000kg

£508

Maize seeds, 1500kg

£163

Pear seeds, 200kg

£678

Sweet potato seeds, 100kg

£102

Cassava plants 10,000

£420

Transport
Beneficiaries have been participating in preparation and planting of the cassava plantations to a huge extent and this has kept costs down significantly. The money saved was used to buy additional seeds which were distributed to more families. In the end 421 families were in receipt of seeds, more than the expected 350 families.
Summary
The Batwa Agriculture Project in Burundi, has progressed well and the project sum of £6515 has now all been allocated in buying fertilisers, seeds and cassava plants.
Land has been cleared and planted and all produce is growing well except in the village of Gihinga where cassava plants were affected by poor weather conditions.
Harvest is now awaited but this promises to be good, allowing the people and children in particular to have sufficient food to eat and to save seed for the next planting season.
On behalf of our contacts at ARM and the Batwa people in Burundi, we offer our deepest gratitude to Change4Change for their generous investment.
Steve West
on behalf of the
Links team
---
Progress Report: Batwa
Development And Social Integration Project
Date: 7 July 2009
On behalf of our contacts in Burundi, Links International would like to thank Change4Change for their kind investment of £6515 towards the Batwa Agricultural project.
Project summary
The aim is to improve the living conditions of the Batwa people, by directly intervening in the improvement of the current agriculture system and in reinforcing their potential and capacities to match with the overall economic situation. This objective was to be achieved by our contacts helping the Batwa to increase the food products (beans and maize) and production of a community field of cassava.
Activity done
During this period, they have cultivated 2 ha of cassava in an area called Gihinga and 0.60 ha in another area called Kibungere. In Gihinga, the land had been given by the local authorities; previously it had eucalyptus trees plantations. The land preparation took a long time as they had to uproot all the trees and the soil was also very acidic and, as such, they had to treat the soil before they could plant any cassava. In Kibungere, the village paid for the rent of the land because there were no free lands near their village to be given by the local authorities. Now the cassava plantations are growing. In February, other villages will receive cassava plants from these 2 villages but, before that time, our contacts also plan to buy new cassava plants for the September-October culture season. The first harvest will be in March (2010) for Kibungere village and in August (2010) for Gihinga village. Gihinga is situated in a colder region, so crops take much longer to mature. 74 families (40 in Gihinga and 34 in Kibungere) will benefit from this first phase of the project. As yet our contacts have not been able to use project funds to begin the cultivation of beans and maize. They plan to use the remaining funds (7,700 US$) giving 1200 kg of beans and maize seeds to 350 families to be planted toward the end of September/October. This is the normal planting season when there is no change of the climate. They also plan to plant another 2 ha or more of cassava in a village called Nyarusange.
Difficulties
In the proposal that was originally submitted to Change4Change our contacts had planned to begin the agriculture project in the Nyarusange commune. They had appealed to the authorities for the Batwa villagers to receive enough land to begin the project but unfortunately this was not successful. The local administration authorities were divided on the issue and were taking a very long time to decide. They are still asking for the land and waiting to see if it is possible to extend the project into this particular village in October. Failing that they plan to work into a village named Rukoba. Their preference is to focus on the work in Nyarusange because the Batwa people in that village live in very poor conditions, most begging or working for other people. Our contacts still have 7700 US$. This amount will be used: To give beans, maize seeds and fertilisers to 350 families. To add fertilisers to already planted cassava field. To prepare and plant new field of cassava, 2 ha or more, depending on the prices of the period. On behalf of our contacts and the Batwa people in Burundi we offer our deepest gratitude to Change4Change for their generous investment.
Joe Gisbey
on behalf of the
Links team