Iquitos Peru
Village Store
Jania Huansi is very appreciative for the loan given to her as it gives her a means to help her and her husband provide for the needs of the family. Her husband's job is often not very secure and Jania is grateful to have a way to help. She has a small store that she is developing in her house and in front of the house selling items that all the neighbor's need everyday.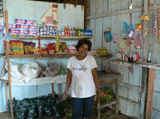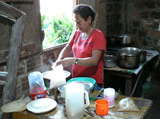 Bertha Luz Cachique is on her first round of the loan but it is helping her with the family needs. She prepares three options of food for the noon meal and is developing clients that come every day and buy some meals to take home to their houses and eat. Some will sit down in her living room and have their meal there. Here are her comments.
"The loan is truly a help for us in our home. What I cook to sell is often left over and we as family eat from that. Sometimes the rice runs out in the sale so I will make more rice for the family and fry an egg but it helps us with our needs."
She also has food and other items to sell to the people that come to her home for the meal that she provides and hopes that in a second round of loan she might get a little more to increase the items available in her store . She is very appreciative for the loan and paying her weekly payment very well.
Cheese, Chickens and Beauty Products
Ana Cabrera G took out a loan of 500 soles for the sale of cheese.
"The sale of the cheese is helping us with some of our expenses and we are keeping the capital going because not only do we now see cheese but I have been able to return to selling Ebel beauty products, and I have also started raising some chickens with the earnings. We were also able to help with fixing our roof. I feel good to be able to help with the expenses."