South Africa
Letter from Project co-ordinator at our project in South Africa where womens shelters have been given loans to set up a jewellery business.
Dear Martin,


Since my last correspondence in December, we have sent a consignment of jewellery to Canada and Germany – how exciting is that! We have also approached two large corporate companies to have an open day at their head offices ( with over 1'000 staff at each) where we will showcase and sell our jewellery as well as an EXPO at a huge church on the 15th March 2009.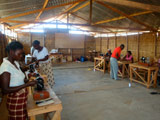 We have been approached by a business person in Germany who took a consignment over to find out if we can become registered with Fairtrade, do you have any idea how we can do this? I presented at National Level in Johannesburg at a conference on "The Domestic Violence Act – 10 years on, What Part Do Shelters Play" It was fantastically received and my slogan was "Changing South Africa one Women at a Time" Last week I also did a presentation to Provincial Government on the financial crises of shelters which was also exceptionally well received and I believe that we have at last formed a good working relationship with our Social Development. In fact I have been asked to present at our National Summit in Johannesburg in October on best practices for Shelters in South Africa – What an honour! The Programme Director for Child and Family Welfare in the Western Cape is coming over to have a look at our jewellery business. Thank you so much for your support.
Kind Regards,
Linda Fugard